Packaging that is environmentally friendly has become a big topic. Flexible packaging has a lower overall environmental impact than most other types of packaging, but it has the disadvantage of being difficult to recycle. Consumers are more worried than ever about a package's end-of-life situation. Flexible packaging made entirely of 100% polyethylene (PE) is a win-win situation for the environment, consumers, and companies.
Vishal Containers Ltd offers a variety of recyclable mono material and regular laminate structures of flexible packaging materials, ranging from roll stock to preformed pouches.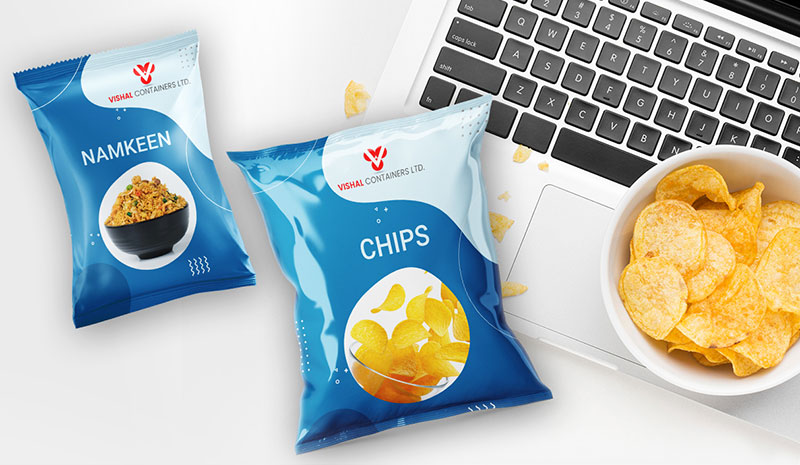 EB Flexo Printing and Barrier Coating Technology
Electron Beam printing is one of the most environmentally friendly printing technologies known today, having the smallest carbon footprint. Our creation of recyclable or sustainable packaging structures in flexible packaging relies heavily on EB technology and barrier coating technology. We offer Recycle Ready flexible packaging with eye catching print and required barrier properties with various special effects creating possibilities. Packaging differentiation is vital in product marketing because customers are drawn to something distinctive. Unique packaging can help differentiate a product on the shelf and make it more appealing to consumers. EB coatings can help make packaging attractive and stand out on the shelf by adding special effects and decorative coatings such as Gloss, Matt, Textures, Tactile Raised, and Glitter, in addition to their sustainable benefits.
RecycleReady Roll Stock & Preformed Pouches
We can offer CIRCUPACK range of Recycle Ready flexible packaging in Roll Stock and premade pouches like Standup with or without zipper, Three side seal pouches, Quad Seal pouches, Overlap sealed sack bags, Flat Bottom PE pouches with Pocket zipper, Slider zipper, Aplix Velcro zipper and Handle.
Custom Printed Roll Stock
A world of customization is at your fingertips with our printed roll stock. We offer printed roll stock, featuring printing of multi colors, and is available in customized thicknesses as per customer requirement. Our printed roll stock will provide your finished product with a superior look and feel when used in automated packaging or form fill packaging.
Our high-quality, customized films are durable and long-lasting. We understand the value of your brand, which is why we never compromise on quality in our films. Our customers have a lot of faith in us because of our commitment to high-quality materials.
Brands have become wiser in recent years, and they are seeking new, efficient, and effective ways to target their audiences. As a result, most brands are abandoning hard packaging in favour of flexible Standup Pouches. These are also more suitable for packing, protecting, and advertising. Vishal Containers Ltd. is one of the most reputable standup pouch manufacturers. Our standup pouch is adaptable and can be customized to match your brand's needs and can be both with and without zipper. To provide you with the final pouch as envisioned, we use superior printing technology and eye-catching patterns.
Flats bottom bags/pouches
Due to their capacity to handle significant product weight and volume while remaining visually appealing on a shelf, our flat-bottom bags are a popular choice in a variety of industries. With additional stability, the flat-bottomed structure provides more convenient packaging alternatives for your goods. Only the highest quality materials are used, extending the shelf life and keeping the contents of each bag fresh for longer. The gusseted sides of this bag, together with quad seals, create a stronger structure than typical rounded edge pouches. The quad seals provide firm support for convenient storage when packaging granular commodities like coffee grounds, grains, and pet food. Available in both regular laminated structures and Recycle Ready Mono PE material.
Are you looking for re-usable or re-sealable packaging bags? Vishal Containers Ltd, one of the leading zipper pouch manufacturers, has got you covered. We offer the most comprehensive assortment of stand up zipper pouches in a variety of sizes, thicknesses, colours, printing, and other combinations to satisfy the needs of our customers. Their dependability and longevity have boosted their use in a variety of industries, and we have the greatest resources in place to satisfy your large-scale requirements. We guarantee that quality will never be compromised and that you will receive the best possible service in accordance with industry standards.
Co-Extruded polyethylene bags are comprised of a thinner and stronger material. They are good alternative to Woven sack bags with advantage of high quality graphics and printing compared to woven sack bags. Available for 5kg to 25kg heavy duty packaging for products like powders, rice, wheat, pet food and several other products with heavy duty packaging requirement.